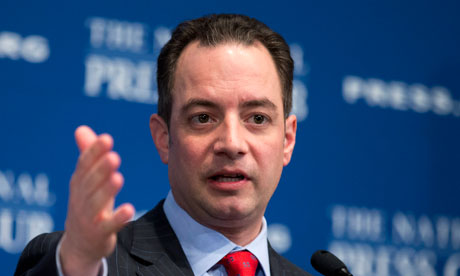 Homosexual Symp Reince Priebus, who needs to resign as head of RNC!
Social conservatives have staged a counter-offensive within the Republican party, orchestrating a unanimous vote within the party's national committee that reaffirms its opposition to gay marriage.
The counter-coup was organised at the RNC's spring meeting in Los Angeles. A resolution, passed without neither debate nor dissent from the 168 members of the party's governing committee, affirms "its support for marriage as the union of one man and one woman as the optimum environment in which to raise healthy children for the future of America".
A separate resolution that was also carried calls on the US supreme court in its pending rulings to uphold California's ban on gay marriage, Proposition 8, and to back the Defense of Marriage Act, Doma, that withholds certain federal benefits from married same-sex couples.
The adoption of such a traditionalist hardline stance by the committee is a slap in the face for the RNC's leadership, particularly its chairman, Reince Priebus, who since the drubbing received by Mitt Romney in the presidential election last November has been trying to steer the party towards a softer, more centrist position. Last month he unveiled a 100-page "Growth and Opportunity Project", dubbed the autopsy, an act of unprecedented hand-wringing over the party's failure at the polls that called for a rethinking of the party's stance on gay marriage and immigration.
Read More…