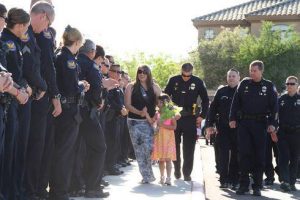 A little girl, named Tatum Raetz, graduated from kindergarten in Phoenix, Arizona.
Her Daddy couldn't be there with her. He was killed by an illegal hit and run driver, with a history of fleeing to Mexico. The Senate should be proud.
Since her Daddy couldn't be there, some 100 Phoenix Police Officers showed up to give show their love and support to Tatum, along with 400 other parents and friends.
So while politicians, IRS administrators, and other assorted asshats do their best to cover their ass while they lie and deceive the American people, regular working people show up and do the right thing.
Read More…