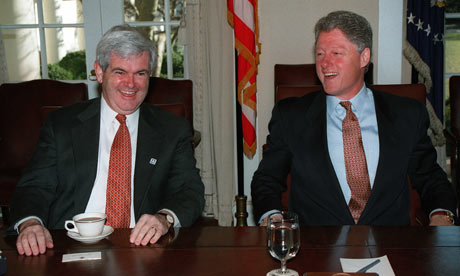 Contrary to popular wisdom, the government shutdown of 1995-1996 was not a big factor in Clinton's 1996 re-election win. Photograph: Sportsphoto/Allstar
We are less than a week from a possible government shutdown, thanks to the inability of congressional Republicans and President Obama to reach a budget compromise. Much of the disagreement stems from the determination of some Republicans use the budget bill to defund Obamacare. Given the imminence of the threat, much reference has been made to the previous government shutdowns in 1995 and 1996.
For those who don't remember, 1995-96 featured congressional Republicans led by Newt Gingrich taking on Democratic President Bill Clinton. The conventional wisdom now is that Clinton won the political battle over the shutdowns. Some have taken that a step further and believe Gingrich's "defeat" cost Republicans in the 1996 election.
The former is definitely true. Republicans clearly took more blame for the shutdowns 17 years ago. Today, though, the "margin of blame" is 16pt smaller – with Americans surveyed only 3pt more likely to blame congressional Republicans than the president (the margin was 19pt in 1995-96). That suggests that Republicans are much in better shape now than they were then.