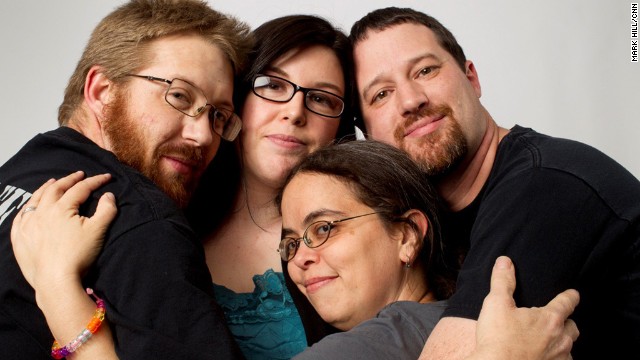 Not one good looking one in this bunch of freaks.
Revelers in the rainbow-washed crowd smiled and cheered this month as the little blond girl in the parade float pageant-waved to the B-52′s "Love Shack."
Next to the float, the girl's father, Billy Holder, handed out fliers to the Atlanta Pride Parade crowd. His wife, Melissa, carried a banner along with Jeremy Mullins, the couple's partner.
"Polyamory: Having simultaneous close emotional relationships with two or more other individuals," read their purple-lettered banner, embellished with an infinity heart.
The "awws" and waves from the crowd gave way to some puzzled looks and snickers.
"What's poly?" a woman asked, looking toward a handwritten sign on the float that read "Atlanta Poly Paradise."
"Multiple partners?" the man next to her guessed.
Sort of. As the concept of open relationships rises in pop culture and political debates, some polyamorous families like the Holders and Mullins see an opportunity to go public and fight stereotypes that polyamory is just swinging, cheating or kinky sex.